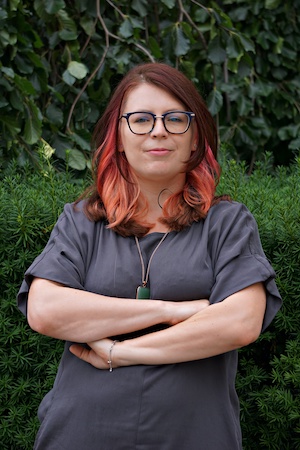 Aleksandra Swatek, Ph.D. is a research assistant professor at the Scholarly Communication Research Group. She specializes in broadly defined writing studies, drawing on various disciplines and fields such as second language writing, applied linguistics, rhetoric & composition, and professional writing. In her work at the SCRG, she will explore how early career scholars in Social Sciences and Humanities in Poland write for academic purposes in English. Specifically, she will focus on the challenges that academics, who are about to graduate from doctoral programs or those up to three years after graduation face, when they want to write for international English-language academic journals. The research project will investigate what support these early-career scholars get as they are being prepared for academic careers, and what their needs are. This research project will be conducted over 3 years (2020-2023) and is funded by the generous support of the National Science Center – Sonatina grant.
Aleksandra is also currently serving on the advisory board of the Corpus and Repository of Writing research group (www.writecrow.org), which brings together research teams at Purdue University, University of Arizona, Northern Arizona University, University of Washington-Bothell and North Carolina State University. Their efforts are focused on building and developing a corpus of first-year academic writing in English, accompanied by a repository of pedagogical materials, all available through a web-based interface. The project serves audiences who want to use it for pedagogical and research purposes.
Her previous research projects revolve around the issues of academic language use and teaching, including language testing and assessment. Her dissertation on linguistic features of engagement in math instructional videos – a corpus-based research study. She is also actively investigating English language teaching issues in Poland in the context beyond higher education.
Aleksandra is also passionate about teaching academic communication in English across all levels and brings over 7 years of teaching experience in this area to students with varied linguistic backgrounds.
---
Publications
Peer-reviewed articles
Shin, J., Rodríguez-Fuentes, R. A., Swatek, A. M., & Ginther, A. (2021). Aptis test review. Language Testing. https://doi.org/10.1177/02655322211032873
Shin, J., Velázquez, A. J., Swatek, A., Staples, S., & Partridge, R. S. (2018). Examining the effectiveness of corpus-informed instruction of reporting verbs in L2 first-year college writing.  L2 Journal, 10(3), pp. 31-46. Retrieved from https://escholarship.org/uc/item/7wb651t7
Book chapters
Kasztalska, A. & A. Swatek. (2020). "Ideologies of Multiculturalism and Neo-nationalism in EFL Classrooms in Poland: An Exploratory Study of Teachers' Self-Reports". In K. MacIntosh (Ed.) Applied Linguistics and Language Teaching in Neo-Nationalist Era. Palgrave Macmillan.
Swatek, A. & A. Kasztalska. (2018). "Write an E-mail to Your Friend in England":  Assessment of the Written English Matura Exam in Poland. In T. Ruecker, & D. Crusan (Eds.), The Politics of English Second Language Writing Assessment in Global Contexts (pp. 105-116). New York, NY: Routledge.